Welcome to the High Sierra Rod Company Web Site
Makers of the finest handcrafted Split-Bamboo Fly Rods
Continuing the tradition of high quality classic split-bamboo fly rods started in 1936
Please visit our FaceBook page

Updated!

Click here for currently available rods!
Bamboo Rod Making Classes available
Ever wanted to make your own bamboo fly rod? We offer classes in our shop in Angels Camp, California and can accomodate your schedule. Classes are held with only 1 or 2 students, and it takes approximaely 6 days to complete a 2 piece, 2 tip bamboo rod. Click here for more information.
New! I was inducted into the Catskill CFFCM Rodmaker's Gallery this year in recognition of my unselfish work and efforts in expanding and fostering the craft of Rodmaking. Click the picture for more info: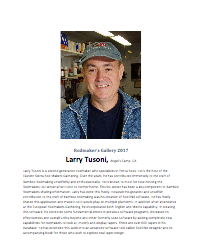 One of latest rods...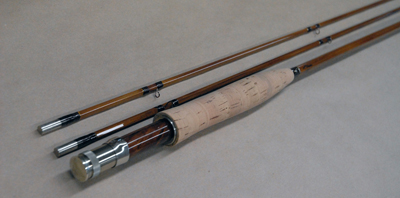 One of our popular Signature Series Fly Rods!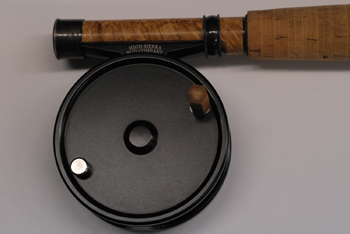 Both sizes are now back in stock!
New! Our own Fly Reels!
The Bamboo Fly Reels will be available again while quanties last!
New! Our newest rod offering!
The Pentatonic , 7' 4/5wt. for less than $900.00!
Brookie Fly Rod Review! This is a link to the review of our Brookie Fly Rod
published in Fly Rod & Reel Magazine!
We now have our popular "Bamboo Rod Taper Design with RodDNA Designer"
book available in softcover at a special price!
| | |
| --- | --- |
| New! Our "Bamboo Rod Taper Design with RodDNA Designer" software and book is now available! | |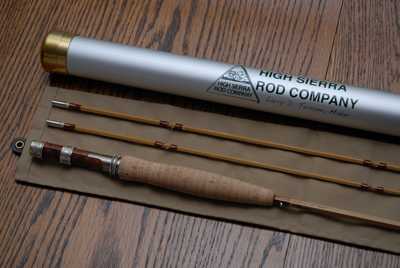 New!

Our latest Limited Edition rod!


A

Claude M. Krieder #23, 7' 4wt. with
amazing British Scroll Engraving!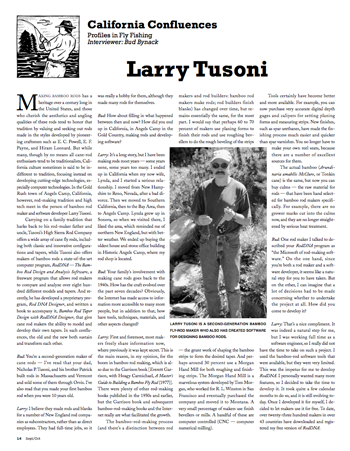 New! Interview with Larry Tusoni
courtesy of California Fly Fisher Magazine
New! All our Bamboo Rod Series have been updated!
New! We are pleased to announce our latest and most advanced pentagonal
rod series Phi Φ. Simply the most advanced pentagonal bamboo rods available!
Our 5th ESRG (Eastern Sierra Bamboo Rod Makers Gathering) has been scheduled!
New! We now carry Terenzio Silk Fly lines!
New! RodDNA version 1.4 has been released!
New! PENTAGONAL Alpine Models available!
Now with a newly designed taper and a ammonia treated medium brown color.
6'9" 4 piece 3/4 weight, 7'3" 4 piece 4/5 weight and 7'9" 4 piece 5/6 weight

Here is a 7'3" 4/5 single tip Alpine made for a customer in Twin Brides, Montana

Here is a 6'9" 3/4 dual tip Alpine made for a customer in Palo Alto, California
New! PENTAGONAL Brookie Models available! Same low price of $499.99!
New! Even more Pentagonal Signature Pentagonal Fly Rods!
Now you can experience the unique action & feel of our pentagonal (5-sided) fly rods at a substantial savings! We have the best prices and largest selection in the industry.
Read why we and others believe pentagonal (5-sided) rods are superior to even sided rods.
All of our heirloom quality rods are meticulously handcrafted by second generation rod makers in California's Sierra Nevada Mountains and are designed using an advanced version of our Rod Design and Analysis Software (http://www.RodDNA.com) which enables us to design rods of almost any length, line weight and # sections while preserving a desired feel & action.
If you are a serious fly-fisher isn't it time you experience the exquisite feel and aesthetic beauty of a quality, Handcrafted USA Made split-bamboo fly rod?
We now offer the complete line of Hardy Reels and other products.
(209) 736-9197 Email: info@HighSierraRods.com
Specifications subject to change without notice.
Copyright © 1998-2022 High Sierra Rod Company. All Rights Reserved.